How to Fix iPhone is Disabled Connect to iTunes ? When you connect the disabled iPhone to iTunes, you get the message "To allow access, please respond to your iPhone", when you try to fix it with your iTunes but nothing happens. It is very disappointing that you can do nothing to enable the phone except make emergency calls. It's a common issue as iTunes will not recognize your device if it has never been synced with it before disabled.      
You'll get another error message that iTunes can't recognize the disabled iPhone because it's locked with a passcode. You need to enter the passcode to get permission to access your device, but you cannot activate the authorization because you forgot the passcode. You will not get anything on iTunes and computer. The computer doesn't recognize the disabled iPhone and you don't see your device option in the iTunes window.
No worry, you can fix it without any complication. It happens many times with numerous people who come across iPhone disabled not connecting to iTunes issues and seek help. If you come across the problem that my iPhone is disabled not connecting to iTunes, here we can help you to fix it.
Remember that iOS 15 or later says iPhone Unavailable instead of saying iPhone is disabled. Both proverbs have the same meaning.
Why Does Your iPhone Say "iPhone is Disabled, Please Connect to iTunes"?
If iTunes consumes all of your resources to unlock your device when it's disabled, you don't have to take responsibility for it. This page will help you to unlock a disabled iPhone in a simple way.

Apple has developed the increased security measure to protect your iPhone data. If you enter the wrong passcode, the message will say "iPhone is disabled, please try again in few minutes or 1 hour". When the countdown is over you will have another chance to enter the passcode, once successful the messages will disappear. Everything's fine.
After trying 10 failed password attempts on your iPhone, iPhone says "iPhone is disabled, please connect to iTunes" instead of "iPhone is disabled, please try again in X minutes". Apple tells you to factory reset your disabled iPhone by connecting to iTunes with the phrase "iPhone is disabled, please connect to iTunes". Your iPhone is locked and you have no way to enter a passcode, even if you later remember the correct passcode.
What to Do When iPhone is Disabled/Unavailable and Can't Connect to iTunes?
Sometimes it happens that the disabled iPhone won't connect to iTunes simply because it can't find the right way to boot into recovery mode.
When something goes wrong, an advanced tool that can tell iTunes to update or restore an iPhone or iPad. In this case, all you have to do is press the button on your specific iPhone model that you need to hold down.
If the disabled iPhone has not been recognized by iTunes yet, you should also use the Find My feature in iCloud to remotely wipe your iPhone. iPhone Unlocker software is also worth trying. Learn How to Fix iPhone is Disabled Connect to iTunes.
Method 1. How to Restore a Disabled iPhone from Recovery Mode When Simply Connecting to iTunes Doesn't Work?
Unluckily, if you enter the wrong passcode too many times, your iPhone will be disable and you will not be able to unlock it with a simple connection to iTunes as the error message indicates. You need to press the correct combination of keys to put the disabled phone into recovery mode and then factory reset it using iTunes.
You may have different keyboard shortcuts to start recovery mode, it depends on the iPhone model you have. Please note that iTunes will erase all your data and settings after the restore process, so you can clear the passcode and access a new iPhone without a lock screen. If available, you can back up the data with a backup on your iPhone.
You can follow these steps to restore your disabled phone when it doesn't connect to iTunes:
Power off the disabled iPhone
If your iPhone is connect to the computer, you need to disconnect it first. Then turn it off.
Enter Recovery Mode
You need to enter recovery mode and make sure your computer is running the latest version of iTunes and has a strong internet connection. If you're working on a Mac running 10.15 or later, the Finder app handles this task for you.
Restore your iPhone using iTunes or Finder
Once iTunes or Finder detects your disabled iPhone in recovery mode, it should automatically launch on your computer. If not, you can open the app manually. So there are two ways to deal with the disabled phone. Click Restore. Your computer connects to Apple servers and downloads software to install on your iPhone. Let it factory reset iPhone while wiping your phone data. It may take several minutes.
Set up your iPhone
When your phone restarts, it has restarted and is running the latest version of iOS. You are now ready to go through the initial setup process. You have the option to restore your data and settings from the backup, if you have a backup.
---
Method 2 – How to correct a disabled iPhone that won't connect to iTunes using iCloud ?
iCloud is another alternative to iTunes if you don't have a computer handy. You have to sign in to the iCloud website with the Apple ID & password used on your iPhone and go to the Find iPhone section to remotely wipe the device there.
Some requirements for this:
Before disabling it, you have enabled Find My iPhone on your iPhone.
An Internet network must be present on your device.
When you're ready, here's what you need to do to unlock your device:
Go to iCloud.com in any browser and enter your Apple account credentials. On the iCloud upload page, click Find iPhone at the bottom left.

Go to All Devices & choose your device name at the top of the window.
Now click the Erase iPhone option.
When prompted, hit the Erase option & enter your Apple ID password to begin erasing your device.
---
Method 3 – How to reset a disabled phone without connecting to iTunes using a third-party tool?
Connecting the disabled iPhone to iTunes may not help much. iTunes may not be able to detect your phone in recovery mode, maybe it won't restore the device for unknown reasons.
If you are looking for a reliable iTunes alternative to fix disabled iPhone, you can't miss iPhone Unlocker. It offers a clean interface that quickly guides you through unlocking an iPhone that displays the "iPhone is disabled, connecting to iTunes" warning; no password required. Furthermore, this program also works well with iPad and iPod touch. Other features of this program include removing Touch ID, Face ID, Activation Lock and more.
Here is the download link for Windows versions & macOS versions. Then follow the tutorial for how to fix 'iPhone is disabled. Connect to iTunes' error.
Open the tool after installation. On the main screen, select the "Wipe Passcode" part.
First connect your device to the computer. Once connected, review the device information displayed and make any necessary changes if necessary.
After confirming the information, click the Start button to download the iOS software package for your device.
Now after the download completes, click on the Unlock button. In the popup dialog, type 0000 in the text bar and hit the Unlock button again to start unlocking your iPhone.
---
Method 4 – If you still want to use iTunes to fix the disabled iPhone, put it into recovery mode
There are two basic steps to unlock your iPhone via recovery mode. Make sure iTunes is using the latest version and your device is not connect to the computer.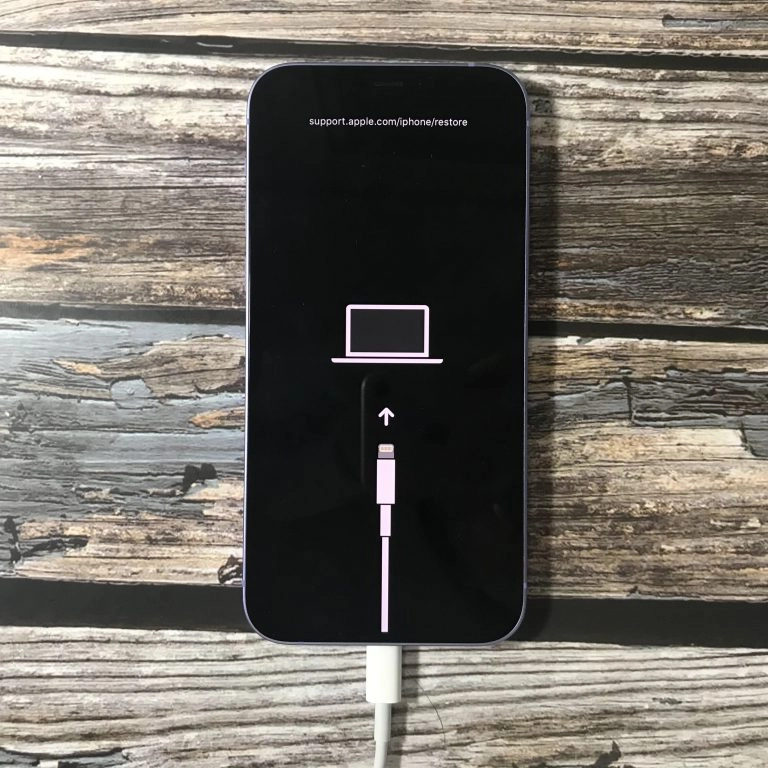 Step 1: Enter into recovery mode
For iPhone 8 or later, press and hold the Power Button (on the right side) and either Volume Buttons until you see a power off slider. Turn Off your device using the slider. Then connect your phone to your computer by holding the Side button until you see the recovery mode screen.
For iPhone 7 (Plus), press and hold the Side button, then drag the power off slider to the right to turn off the device. Then connect your device to the computer and press the Volume Down button at the same time. Keep holding the button until the phone enters recovery mode.
On iPhone 6s or earlier, press and hold the Side Button until you see the "Slide to power off" alert. Move the slider to turn off the phone. Hold down the Home button while connecting your device to your computer. After entering recovery mode, release the button.
Step 2: Restore from iTunes
Now, the disabled iPhone should show up in iTunes. Click it and you'll be provided options to Restore or Update. Then, go ahead to choose Restore button.

iTunes (or Finder) will download the latest iOS software and factory reset the locked device to remove the previous passcode. If the process takes more than 15 minutes, the iPhone will exit recovery mode and return to the lock screen showing the disabled error message. In this case, repeat step 1 to enter the mode again.
Conclusion
Ultimately, the reason iPhone won't connect to iTunes in disabled mode is because you forgot your passcode or can't log into your phone to activate iTunes authorization.
Here we learn How to Fix iPhone is Disabled Connect to iTunes
If your computer or iTunes doesn't recognize iPhone in recovery mode and nothing changes after changing a different USB cable and USB port on your computer, try restoring it from DFU mode.