Have you troubled with large Mac OLM files and want to split them into smaller parts? You must use the SysTools Mac OLM Splitter tool that allows you to break large OLM files into small files. So that, this is an advanced and powerful utility to split OLM file by size, date, folder and email id. Here, you will learn everything about this splitter like features, working steps, etc.
Large OLM files are difficult to manage and there are high chances of data corruption. To maintain Outlook performance and prevent corruption, oversized Mac OLM files need to be broken down into small files. So that, with this Mac OLM Split Tool, you can effortlessly break Outlook Mac files without losing individual data.
Mac OLM Splitter – Utility to Divide OLM Files into Small Parts
The best OLM split tool that helps users to perfectly split oversized OLM file into multiple smaller files. It provides advanced option to split OLM file by Date, Size, Email ID and Folder. User can easily choose any of Split option which meets their needs. The tool lets you break large OLM files minimum by 100 MB and maximum by 20 GB size. It preserves metadata properties of emails throughout the splitting OLM file process. This is a secure and fast utility that maintains integrity of data and gives you 100% accurate result in just a few minutes.
The software is capable to maintain the Read or Unread statues of email messages even after the splitting. It supports to divide archive files of all Mac Outlook versions including Outlook 2019, 2016, 2011. The utility is capable enough to split large OLM files without installing the Mac Outlook application. Best Mac OLM Splitter has a very simple user interface with graphical instructions. It is helpful for any beginners to easily accomplish this task without any technical expertise.
SysTools Mac OLM Splitter is completely standalone and does not need the installation of Mac Outlook to start the splitting OLM file into smaller parts process. OLM file splitter supports to operate on MacOS X 10.8, MacOS X 10.9, MacOS X 10.10, MacOS X 10.11, MacOS X 10.12, MacOS X 10.13, MacOS X 10.14, MacOS X 10.15. The read/unread status of email messages is preserved even after the split OLM file. Mac OLM Split tool offers the option to select destination path to save resultant OLM file. You can create a new folder to store divided OLM files and manage them easily.

Now, let us know about the features of OLM file divider tool in details.
Advanced Features Provided by Mac OLM Split Tool
User-Friendly Interface
The software comes with a simple and graphical user interface. So that, this way any types of users, technical or non-technical can easily able to split oversized OLM file into smaller parts.
Split OLM File by Size
This option allows you to divide OLM files by size including all emails, contacts, calendars, etc. You only need to set the size to break large OLM files according to your choice i.e., minimum size by 100 MB and maximum by 20 GB.
Split Large OLM File by Date
This option in the best Mac OLM splitter tool lets you split large sized OLM file by Date. It is only applicable for mails. Then, you can break large OLM files by Date or by Date Range. After that, in Date option only single date OLM files will be divided and in Date by Range option, you can set date range between From and To.
Split Mac OLM file by Folder
Mac OLM Split tool provides another important option to split oversized OLM file by folder. It provides two options i.e., Split All Folders or Split Select Folder. A separate OLM file will be created for each selected folder.
Split Oversized OLM File by Email ID
The software capable to divide OLM files by Email ID. This option applies only to split Mac Outlook OLM file for email data items. So that, you can large OLM files by From, To, Cc and Bcc email ID.
Maintains Integrity of Data
The best Mac OLM Splitter tool preserves the metadata properties of emails like to, cc, from, subject, etc. After the split Mac Outlook OLM file process, the source file is well maintained without loss of data.
Free Download Mac OLM Splitter
The software offers the demo version to its users to easily check the functions and efficiency. Using the free trial version, users can split only 50 emails per OLM file. After full satisfaction with the demo version, you can purchase the full license and split unlimited OLM files.
Now, let's see the working of the software step by step.
Working Steps – How to Split OLM File into Small Files?
First, Download Mac OLM Split software by clicking on the below download button. Then follow the mentioned steps:
1: Install and run the Mac OLM file splitter tool on your system.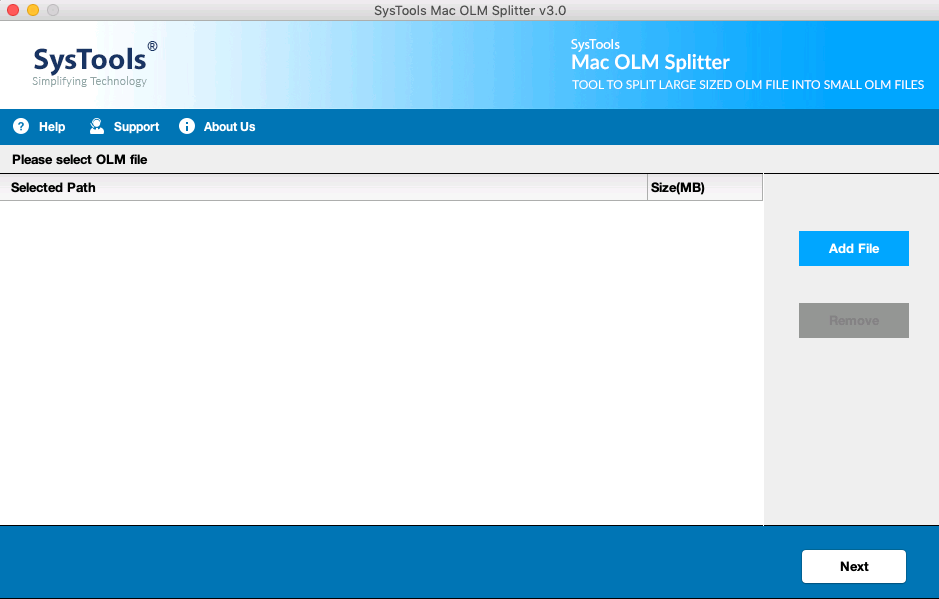 2: Then, select OLM file which you want to split.
3: After that, choose required split option, by size, date, folder & email id.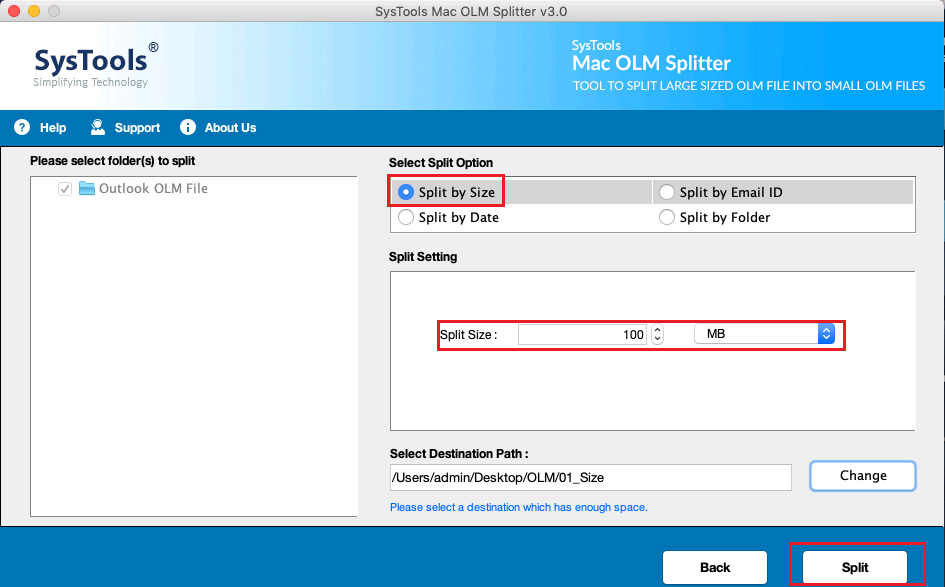 4: Then, select destination path and click on the Split button.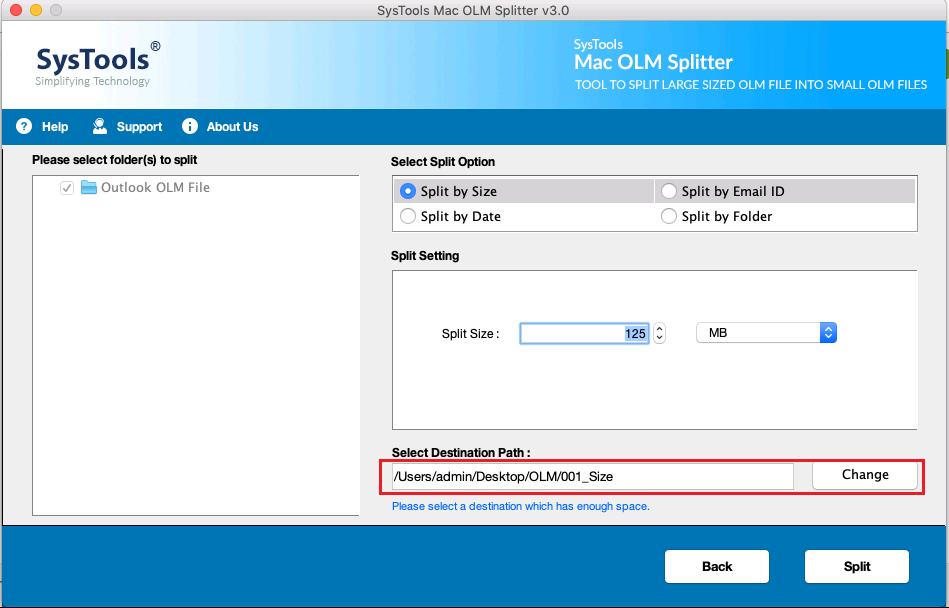 The splitting large sized OLM file into smaller parts will start. After completion the task, you will receive a completion messages on the screen.
How to break large OLM files ?
You can view the divided OLM files from the selected location. Mac OLM file splitter creates the report of whole splitting process in CSV file. This log report contains various elements like folder name, folder path, number of items, number of errors, etc.
The Bottom Line
The Mac OLM Splitter from SysTools is one such tool that offers multiple beneficial features and a fast working speed. It will allow the users to efficiently split OLM file into small OLM files by size, folder, date and email id. This is the perfect tool to break large OLM files without showing any limitations bar and data loss issues. Download the tool to get the various advantages and divide OLM files according to your choice.