Are you tired of using all sorts of tools and manual methods to extract and save attachments from Mac Outlook? So, here is this technical guide we are going to introduce one of the most secure and effective solution that is specially designed to download multiple email attachments from Outlook for Mac. Best Outlook attachment extractor Mac is completely explained here.
Moreover, we also cover how one can extracts attachments from Mac Outlook OLK, OLM, and orphaned PST.
So, let's dig dipper into the blog!
Why We Need Third-Party Software to Save Attachments from Outlook for Mac?
Generally, we can download attachments from mac Outlook but the process is very long-winded because we have to save it one-by-one from multiple emails. And nowadays no one has that much time to extract their attachments from thousands of emails. So, to save time and efforts most of the users start searching for the automated software. But also we cannot rely on any software because performance and usability are the most important criteria for any software. Also if they do not meet the end-user requirement to accomplish the desired operation then the software is useless.
So, today we will like to introduce you to SysTools Mac Outlook Attachments Extractor Tool which is a combination of most advance features and straightforward easy to use user- interface, so anyone can easily extract multiple email attachments at once in Mac Outlook. Moreover, if you want to try the tool, then download the trial version of the tool and set out all the features of the tool without spending a single penny.

Features of SysTools Mac Outlook Attachments Extractor
Maintain folder structure
The software is capable to preserve your folder structure. So after the attachments extraction process, you will find all your attachment in same folder as before the extraction process.
Extract attachment from OLK, OLM, and PST
Another impressive feature offered by Outlook attachment extractor is that it extracts attachment from all versions of Mac Outlook and Mac Office 365 profile. As well as its gives separate options to download attachments from OLK, OLM, and also from orphaned PST file.
Various Filter options
The software is full of various filter options like Mailbox Category Filter, Date Filter, Attachment Size, and Extension Filter, which gives diverse options to copy all attachments from multiple emails in Outlook for Mac.
Provide Two Naming Convention
This Mac Outlook Attachment Extractor tool provides two different types of naming convention options to users to save attachments as per their convenience.
For Attachment: It provide naming convention like Subject + Original Name, From + Subject + Date, etc.,
For Folder: It provides naming convention as Subject, Date + Subject + From, etc., to maintain the exported folder in a proper manner
Supported Mac OS
Users can install and run this software on all the Mac version from Mac OS Sierra to Mac OS Catalina
Free Trial Downloads
The best part of this software is that you can download demo version of the software for free to test the efficiency and working of the tool. So if you want to download the software for free then hit the above download button.
Detailed Working Steps of Outlook Attachments Extractor
Follow the Detailed Working Steps to extract and save attachments from Outlook for Mac.
1: Download and install Mac Outlook attachment Extractor tool on your machine.
2: When the installation is completed you will see three options
Auto locates Mac Outlook 2019 2016 Office 365 profiles- This option lets you browse the profile folder of Macau 2 2019 2016 and Office 365 profile from its default saving location.
Auto locate Mac Outlook 2011- By choosing this option you can add profile folder of Mac Outlook 2011 from its default saving location
Let me browse- This option gives you an ability to add OLM, PST, and OLK files and folders from your desired location.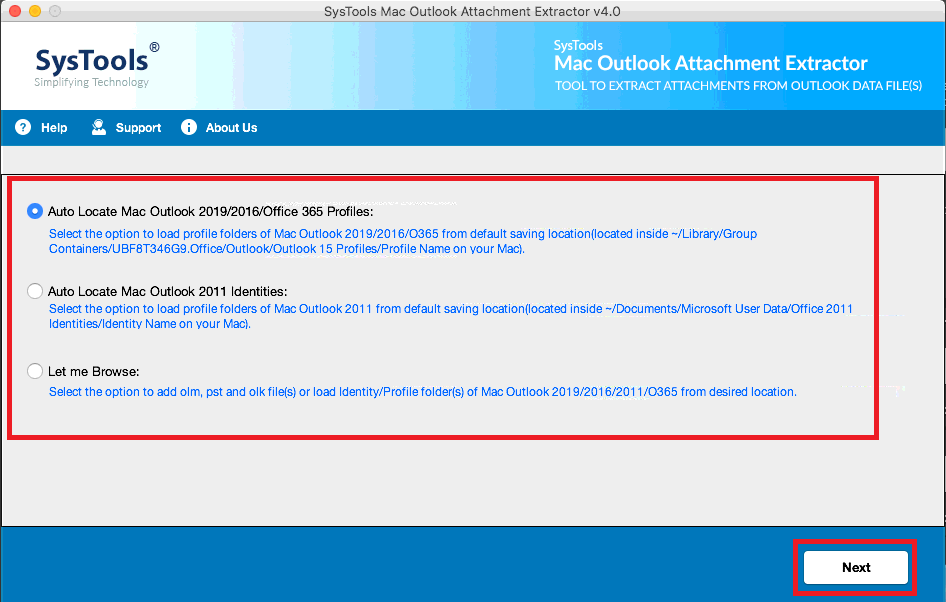 Choose the option as per your requirement.
3: Now, choose to Maintain the folder hierarchy option to preserve the folder structure.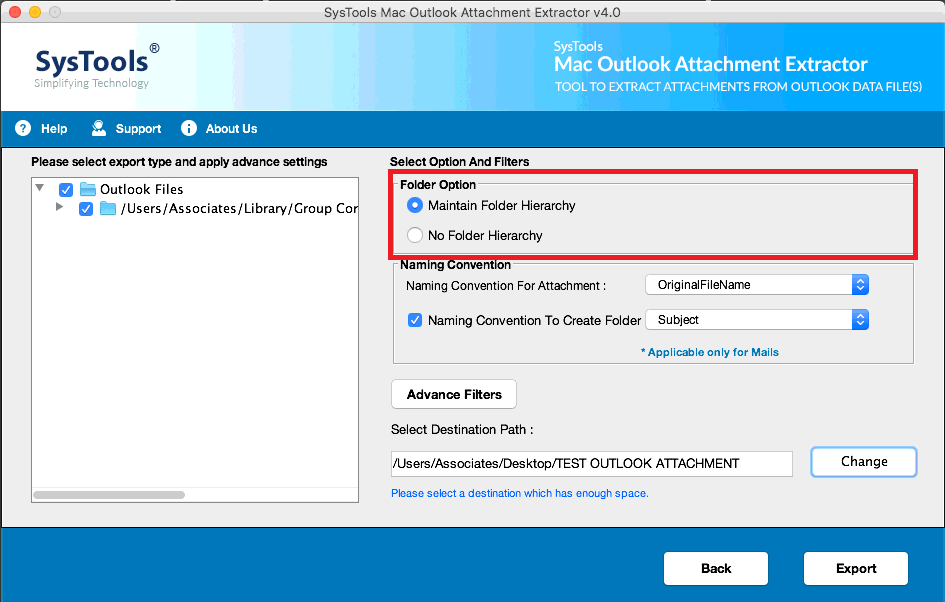 4: At this stage, you have to choose the naming convention options between For Attachments or For Folder. So, choose the naming convention attachment option to save attachment file by selecting the specific format.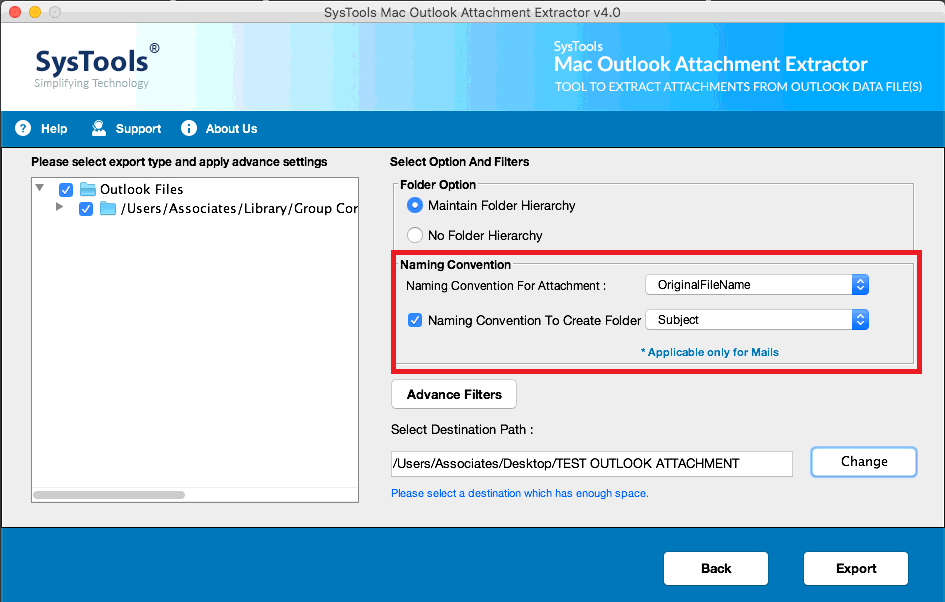 5: Click on the Advance Filters button and choose category items to extract attachments from like Mail, Calendars, and Contacts.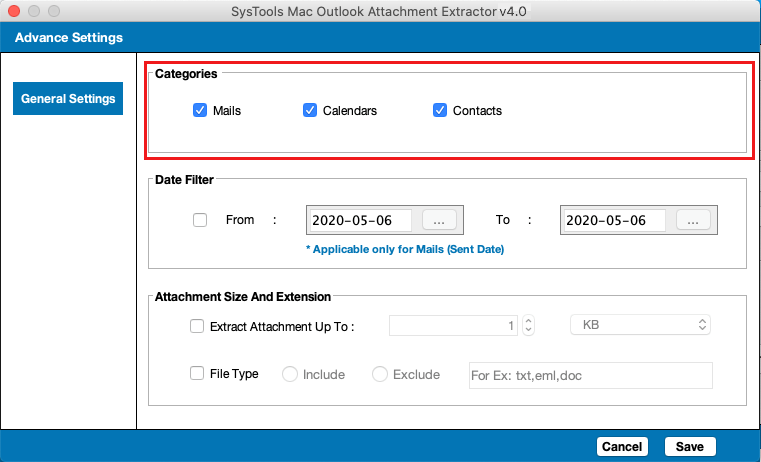 6: Select the Date Filter option to extract attachment of the specific time duration.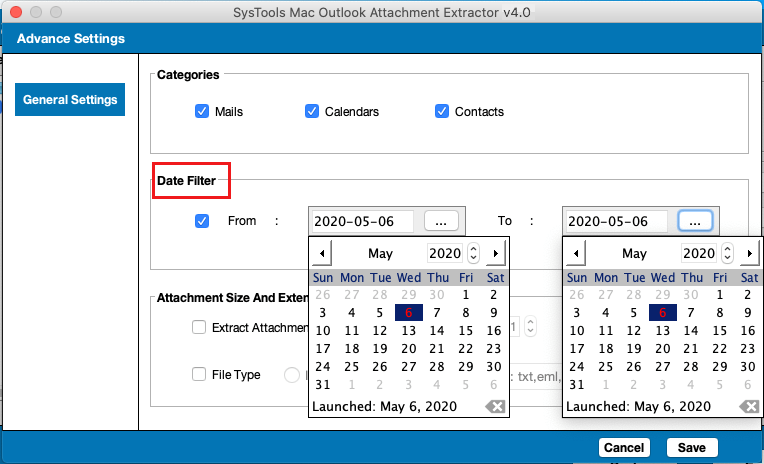 7: If you want any specific attachment size and extension then select Attachment Size And Extension option.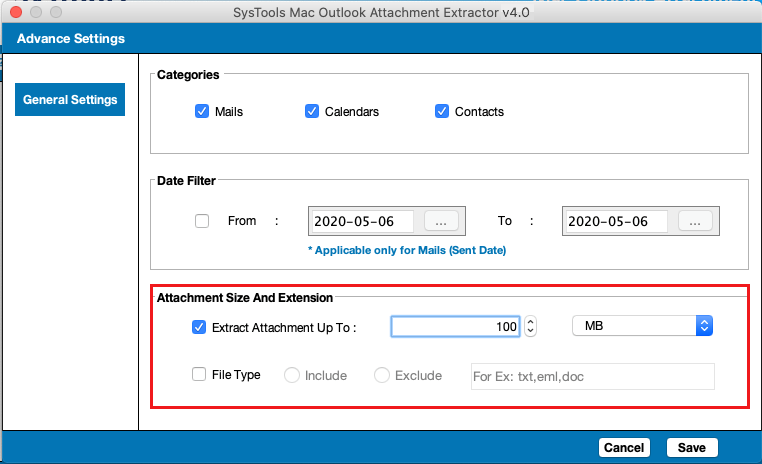 8: Now, click on the Change button to allocate the destination location to save the attachment. Then click on the Export button extract multiple attachments from the Outlook for Mac at once.
How to Save / Download Attachments from Outlook for Mac
How Mac Outlook Attachments Extractor is Better Than Others?
The software is capable to extract attachments from multiple emails in a single click from Outlook for Mac
Separate option to add OLK, OLM, and PST file for attachments extraction.
Facilitated data filter option to download attachments from Outlook for Mac.
Provide multiple options to maintain the original folder hierarchy during the whole process of attachment extraction.
Capable to generate extract attachment report of success and failure count in CSV format.
The user interface of the software is simple and easy to use for everyone.
Maintains data integrity
Can be operated by beginners and professionals
24×7 Support from SysTools Team
One-time purchase utility
Conclusion
When a user wants to extract and save attachments from multiple emails in single click without wasting its time on one-by-one method. Then they need of an automated tool to make the process easy. It's not possible to trust any random application for the sensitive task which involves important data and risk of loss. But, Mac Outlook Attachments Extractor Tool is one of the trusted and secure utilities that can perform a complex task of saving multiple email attachments from Outlook for Mac without any hassle.