If you are wondering the best email archiving solution to archive emails. So read this complete blog. In this blog, we will describe how to securely archive your emails from different accounts using the best email archiving solution.
Nowadays, backing up your data is the safest way to ensure that you are proactive about protecting your data. That way, if a disaster strikes, you can relax and know that your information is still present. With the help of cyber security techniques and backup software, you can take the initiative to protect yourself before anything hardens.
There are many reasons that we have to archive our email data, Let's discuss the reasons, because of which we take a backup of our data.
Why Do You Need to Archive Emails ?
Free Up Storage When Storage Full
When our account storage becomes full, then it becomes necessary for us to backup our data. Even if we are afraid of losing our data, we backup our data.
Many peoples and companies believe that save your email to the cloud is safe. But the annual subscription is more expensive for the user than a one-time payment software.
Accidentally Deleted Email Recovery
Some platforms do not guarantee complete recovery of lost files. In short, if you have not archived your email data and deleted it by mistake, then it does not guarantee to get your mails data back. Therefore, the email backup can retrieve them if they are already archived.
Archive Emails to Avoid Viruses or Hackers
Although outbreaks of hackers and ransomware are more prevalent at this time, old school tried and true technologies such as dangerous malware, spyware, and viruses are among the leading causes of data loss and system breach.
If we save emails, then our problem is reduced a bit. It is not a bad thing to archive emails without any reason, so we do not have to face any problems, thus we take backup.
Archiving Email to Transferring Another Account
When we go from one account to another, we have to backup our emails. If you want to go to another account for any reason, then backup should be kept in advance.
No matter whether your data is personal or business related, you should think about backing up your data. Anyone expecting additional levels of data loss prevention should consider using archiving software to prevent loss, rather than reacting without available backups.
Backup for Security
For our safety, we keep a backup of our data in advance so that if there is any need, then we do not face any kind of problems. The advantage of email archiving is that our work never stops. User can backup IMAP server mails.
While completing our work, we do not face any kind of problem. That is why we take backup.
Why We Use the Best Email Archiving Solution ?
First of all, the question is why we use the best email archiving solution. To archive emails, we use the best email backup solution.
Businesses of all sizes are dependent on email to communicate both internally and externally. Your business will probably send hundreds of emails a week, if not more. As a result, archiving emails is incredibly important. Email archiving is the best solution to keep emails securely.
This involves storing your email, either in the cloud or in an on-premise, secure environment that can be easily searched and audited. This means the emails cannot be tampered with or deleted, but they can be searched and viewed. Also check out: Top 10 Best Email Backup Software
Benefits of Archiving Emails Using Best Mail Archive Software
Backup software provides protection for business data by copying data from servers, databases, desktops, laptops, and other devices in case of user error, corrupt files, or a physical disaster that makes critical data inaccessible. It can protect sensitive business data about hardware malfunctions, hacker penetration, and many other threats that are meant to digitalize stored information.
Archiving email has many benefits for your business and personal use. Archives help you to be legally compliant for keeping communication records.
If you have found the right email backup solution. Then, your data is permanently safe and secure with continuous data backup and Premier data recovery capabilities.
Which is The Best Email Archiving Software Solution ?
If you need a quick solution to archive your email safely. Then, the 4n6 Email Converter is best for you. This software is specifically designed for this type of task and can download your email quickly to any account. This email archiving tool is full-fill with so many benefits and features that you can use while archiving your emails. With the help of this tool, you can archive your email anywhere, in a short time.
Download the Email Archive Tool free trial from below link:


Benefits of Best Email Archiving Application Solution
This tool makes it easy for you to do backup all your emails in various file formats without any hassle.
Save your emails to some other email account and easily backup your emails to a specific destination path.
This software also allows all emails to be viewed before downloading.
This software keeps all your emails before and after backup in the original structure. No file manipulation.
This software allows you to use the filters option before backing up your emails.
To make your work more pleasant and enjoyable, this application software gives you easy steps to archive all your emails in another secure account. With this email archiving tool you can do the work in few clicks.
How to Archive Emails Using Best Email Archiving Utility ?
This tool provides a lot of options for archiving emails. So that users can easily download their emails in multiple formats.
There are three types of options for archiving email and messages.
1. Webmail Archive
2. Email Client Archive
3. Transfer Archive File to another
1. Webmail Email Archive to Backup Mail Server Data
Webmail is a very popular email server for converting all emails from IMAP server / webmail accounts such as Gmail, Yahoo, and Office 365, etc. After, selecting this Email Account option. Enter the login credentials such as email address or password.
How to Archive Emails from Webmail Server?
If you want to archive your email from a webmail server by email archiving software, following are the steps:
Initially, download the email archiving software to archive your email.
Now, go to the Open menu and select the Email Account.
Here we select the Add Account option and enter the credentials such as email address or password.
Hit the Add button and select the required folder in which you wish to archive the email.
Now, go to the export tab to select the required archive option.
Click on the Save button to begin the procedure.
2. Best Way to Backup Your Email from a Desktop Email Client
Along with the webmail email archive, the software also can locate the configured email accounts and profiles within the email application that you are using. This feature helps to save time and energy to browse for any local file formats connected with an email account. Following Desktop email client supported multiple options to archive emails such as MS Outlook, Thunderbird, MailBird, and more.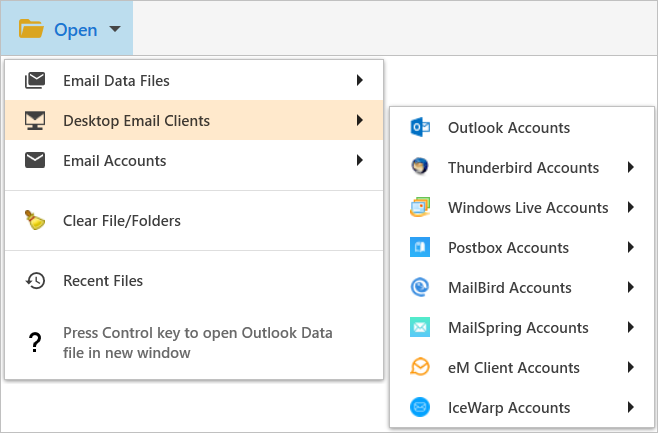 How to Download Emails from Desktop Email Client ?
Follow the given process to archive emails from desktop emails client by email archiving solution:
Run the software on your operating system to archive your emails.
Go to the Open tab and select the Desktop Email Client.
If you have data in your desktop email client, then it will be automatically shown. Select our mail client data.
Now, go to the Export button to select the required archive option.
At last, hit the save button to start the process of archiving emails.
3. Transfer Email Archive to Another
Email Archive Conversion software supports a wide variety of data file formats that are supported and compatible with many email data files. Using this software, you can change your data into another data files or to an IMAP account.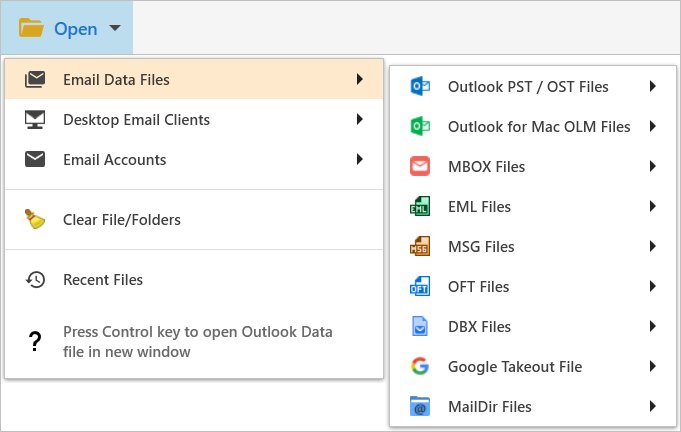 How to Change Archive File to Another ?
So let's follow the process of to change an archive format to other format or mail server using the best email archiving solution:
First, install the Email archiving solution to save the email to other file formats.
Click on the Open tab and select the email data files option.
Choose an option from email files or folders.
Now, go to the Export and select the required archive format option.
In the end, click the Save button to start the process.
There are many ways to backup emails as it depends on your personal preferences. We have shown here several ways for archiving emails in different methods, you can do it as you need.
Conclude
After reading this blog, anyone can archive emails. Since the manual feature does not support downloading all emails simultaneously. You need to use the best email archiving solution to accomplish this task. The email archiving application software is the solution that enables this task with just a few clicks.