Learn how to fix outlook error 0x800CCC0E An Outlook account configured with IMAP may encounter error 0x800CCC0E when sending or receiving email. Error 0x800CCC0E is probably the most common error faced by users of MS Outlook, Outlook Express or similar email clients while communicating via email. This error can appear for various reasons like: Incorrect server settings, wrong username or wrong password, etc.
Here, you will be told about the real causes and the best of all solutions to fix Outlook error 0x800ccc0e or Outlook send and receive error 0x800ccc0e.
After receiving this error, it is always good to know why it occurred & how to fix it. The error message: 0X800CCC0E appears for various reasons. This article explains in detail the causes of the error & some guidelines to fix the problem easily. Let's talk about the cause first.
How Do I Fix IMAP Error 0X800CCC0E in Outlook?
The error synchronizing subscribed folders outlook error 0x800ccc0e is one of the most common errors that occur while working on Microsoft outlook. Here you will be made aware of the authentic causes and their 'best of all' solutions for rectifying the outlook error 0x800ccc0e or outlook send receive error 0x800ccc0e.
It is very common for you to get the 0x800CCC0E error message when you set up an email account in Outlook and try to send an email. The reason you're getting the error is that Outlook doesn't authenticate your account to the server when sending, so the outgoing mail server rejects the message.
How Do I Fix Outlook Error 0x80042108 in Windows 10?
Some PC problems are difficult to solve, especially when it comes to corrupted repositories or missing Windows files. If you are having trouble fixing an error, your system may be partially defective.
How to Know If It is MS Outlook IMAP Error: 0x800CCC0E?
It is quite important and worrying to know why exactly this Outlook error code 0x800ccc0e occurs. Not only this, but most Outlook errors occur due to various reasons such as wrong Id and password, the possibility of getting a virus, assigning wrong port number for outgoing SMTP server.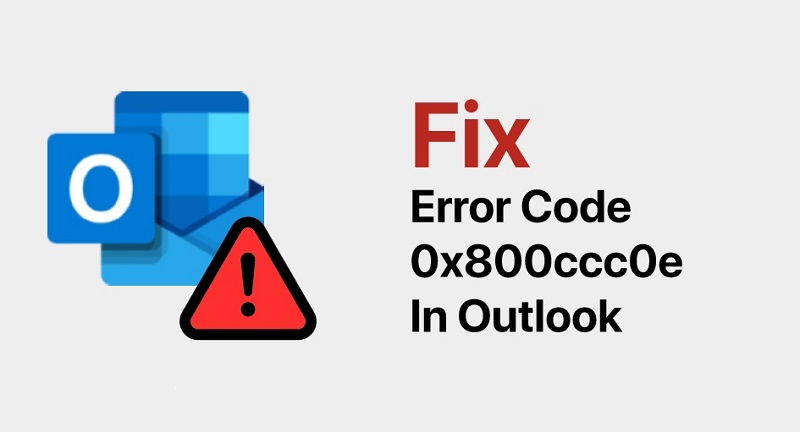 What Reasons and Solutions for Outlook Error 0x800CCC0E in Windows?
Reason 1: Internet Connection Problem Outlook Error 0x800CCC0E
Sometimes due to poor or non-existent internet connection, you get error message that Outlook error 0x800CCC0E can't connect to server.
Solution:
Ensure your device is connected to the Internet.
Also make sure your Outlook app is not set to work offline.
Reason 2: Conflict with Antivirus Software
Virus protection creates a barrier for the incoming/outgoing mail server.
Solution:
For suggestions on how to ensure perfect compatibility between your antivirus software & Outlook, you should check your antivirus vendor's website.
Reason 3: Firewall Blocks Outlook
Your firewall may be blocking your Outlook.exe from running. If the .exe file is locked, it can't communicate with your mail server.
Solution:
Try disabling firewall rules & see if the 0x800CCC0E error is resolved.
Reason 4: Unsolicited and Suspicious Emails
Solution:
Delete all spam and suspicious emails i.e. those that come from untrustworthy sources, from your Outlook account.
Reason 5: Corrupted Outlook Profile
Solution:
To check if your email profile is working properly or not, please create a new profile. If you can send or receive emails with the newly created Outlook profile, set the new profile as your default profile. However, this option comes with some limitations. Also, the username of the newly created Outlook profile is different, which can cause communication problems.
Reason 6: SMTP Authentication Problem
Few IMAP email accounts use an outgoing server (SMTP) that requires authentication. The IMAP: 0x800CCC0E error can occur when your Outlook application is unable to authenticate the outgoing mail (SMTP) server.
Solution:
Enable SMTP authentication & check if the issue persists.
1. Open Outlook.
2. Then, go to account settings.
3. Then, choose an email account then click the Change button.
4. After that, in the Add account window that appears, click the More Settings button.
5. Then, click the Outgoing Server tab in the Internet Email Settings window.
6. Then, make sure the box next to My outgoing mail server (SMTP) requires authentication is checked.
7. After that, Hit OK & restart Outlook to see if the problem persists.
Reason 7:  Incorrect Port Numbers
Due to incorrect port numbers, you may get error code 0X800CCC0E in Outlook. For example, if you enabled encryption but changed the Incoming (IMAP) server port number to an unencrypted port number of 143, or if you did not enable encryption but changed the port number to an encrypted port number of 993.
Solution:
To fix the issue, make sure to change the incoming server port to 143 if you don't have encryption enabled, or set the port number to 993 if you do have encryption enabled. To do this, follow these steps:
Open Outlook
Then, click on File > Account Settings > Account Settings.
Double-click the email account in the Account Settings pop-up window.
Then, click the More settings tab & then click Advanced.
Then, click the Advanced tab & set the incoming server port number (IMAP) to 143 (if SSL is not enabled) or 993 (if SSL/TLS is enabled) in the Internet Email Settings window.
After that, Hit OK to apply the changes.
Conclusion
In Outlook, IMAP error 0x800CCC0E can appear due to various reasons such as network connection issues, conflicts with security applications, corrupted Outlook profile, corrupted PST files, etc. Therefore, this error is fixed by using various manual methods including disabling antivirus software and Windows Firewall, or checking the Outlook profile and changing the port number. Anyhow always use a repair to save a copy of data first. We recommended to use BitRecover Outlook Repair.