This blog teaches you how to access a Gmail account on an iPhone using Apple Mail or one of Google's official apps, Gmail or Inbox. Set up Gmail on your iPhone to get instant access to your emails.
Whether you have one or more Gmail accounts, there are several ways to set them up on your iPhone. This allows you to conveniently log into your Gmail account at any time without having to enter your password repeatedly.
You can set up your Gmail account using the Gmail app for iPhone or the Mail app for iOS. Other email clients like Spark, Unibox, and Edison are also available, but we won't go into the details of those apps here.
This article explains how to get Gmail on an iPhone by adding your email account details to the phone settings. The instructions apply to any Gmail email account at any level of personal use or workspace on any iPhone running iOS 11 or later.
How to Set Up a Google Account in the iOS Mail App ?
There are two ways to download email to your iPhone: IMAP and POP. You can use whichever you prefer, but IMAP excels in its synchronization features. Previous Gmail messages will download to your phone and be stored in the built-in Mail app, which is also where you can get new emails and send messages to your contacts.
Pre-requisites:
Use the following steps to get Gmail on your phone using the Gmail IMAP Server Settings:
Go to Settings > Mail > Accounts, then tap Add Account.
From the list of email providers, select Google.
Tap on Continue.
On the new popup screen, enter your email and tap on Next. If you do not have a Gmail account, tap Create Account instead.
Enter your password (Use App Password as Less Secure Apps Option is not available on Gmail) and tap on Next.
You will automatically be led to the Gmail Settings. Make sure the toggle next to Mail is switched on.
Note: These screens are named differently on older versions of the Mail app. Choose Mail > Contacts > Calendars, then go to Add Account > Google Mail.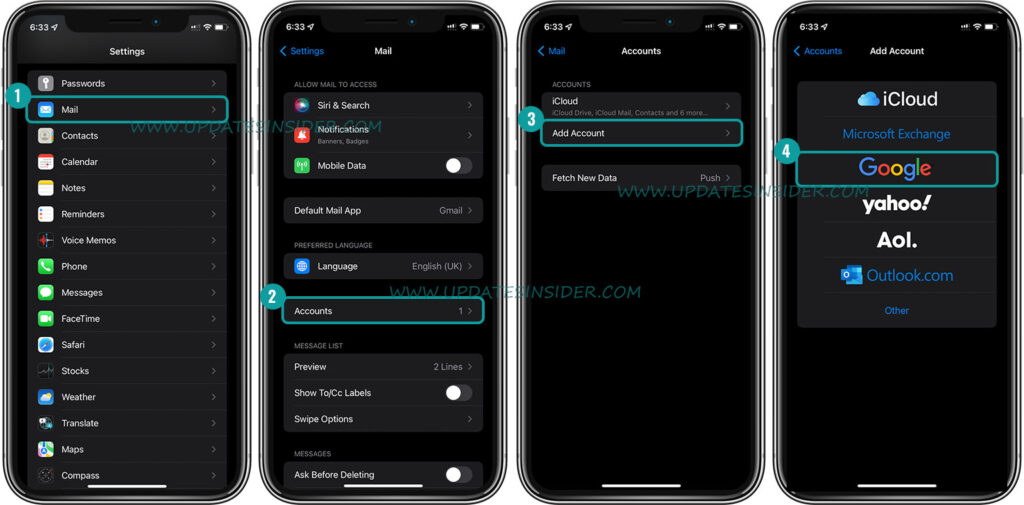 How to Set Up a Gmail Account in the iOS Gmail App ?
If you'd rather use the Gmail app than the Mail app, follow these steps to add your account:
After you download the Gmail app from the App Store, open it and tap Sign In.
A popup page named Add Account will appear. Select Google from the list of email providers and tap Continue.
Enter your email and press Next.
Select Create Account if you do not have a pre-existing Gmail account.
Enter the password and tap Next. Select Save Password if you want your iPhone to remember your account.
How to Add Multiple Gmail Accounts in the iOS Gmail App ?
If you use multiple Gmail accounts, follow these instructions to add all of them:
Open your Gmail app and tap on the icon with your initial at the top-right corner of the screen.
Select Add Another Account and repeat the aforementioned process.
There are many features you can access in the Gmail app, including the ability to add multiple Gmail accounts. All you have to do is tap on a previously added Gmail account to open and switch.
Gmail app has another useful feature for quick access to multiple Gmail accounts – you can view the mailboxes for all email accounts merged into a single mailbox. Tap the menu icon in the top left corner and select All mailboxes to view your emails together.
How do I sign out of Gmail on my iPhone?
The only way to opt out of Gmail is to remove the account from your device. In the Gmail app, tap your profile picture. Tap Manage accounts on this device > Remove from this device.
How do I find emails stored in Gmail on my iPhone?
You can recover archived Gmail messages in two ways. When you search for emails, the search function also lists archived emails. Or you can go to Menu > All Messages to view them.
Make Gmail easily accessible on your iPhone
Gmail is one of the most popular email providers in the world. The availability of the Gmail app and the iOS Mail app has made it extremely easy to access and use Gmail accounts from your iPhone, although there are other iPhone email apps to help you as well to organize your inbox. .
Setting up your Gmail account is a quick and easy process, and with just a few taps, your Gmail accounts will be up and running on your iPhone in no time.