Are you a user of the Roundcube Webmail app and want to save Roundcube email to your computer? Then you don't have to walk around. You will get the exact solution to export Roundcube email in a variety of file formats. This blog post will make it easy to import Roundcube mail to Gmail, Outlook, Thunderbird, Office 365, Exchange, Yahoo, and more. For users, this is also a great solution for archiving and protecting Roundcube email. Just read the entire article to backup Roundcube webmail. Here you can understand how roundcube export all emails easily!
Roundcube Webmail is a popular open-source email client used by individuals and businesses alike. It provides a user-friendly interface and powerful features that make managing emails convenient. However, just like any other email platform, it's crucial to have a backup system in place to protect your important messages and attachments. Backing up your Roundcube Webmail ensures that you have a secure copy of your data in case of accidental deletion, server issues, or other unforeseen events. In this comprehensive guide, we will walk you through the process of backing up your Roundcube Webmail, ensuring the safety and accessibility of your email data.
Quick Step to Export All Roundcube Emails
Following are the steps to swiftly Roundcube backup all emails:
Install and run Roundcube Backup Wizard.
Then, enter credentials to login.
After that select folders for backup.
Then, choose the file format to save the emails.
After that, select the desired location to save resultant data files.
Then, click on the Backup button to start the process.
Why Backup Roundcube Webmail?
Data Protection
Emails often contain critical information, such as business communications, contracts, and personal conversations. Having a backup ensures that your data is safe from accidental deletion, data corruption, or server failures.
Disaster Recovery
In the event of a system crash, server outage, or other unexpected incidents, a backup allows you to quickly restore your email data, minimizing downtime and ensuring business continuity.
Migration or Platform Change
If you plan to migrate to a new email service provider or switch to a different email client, a backup of your Roundcube Webmail will simplify the transition process, allowing you to transfer your emails and settings effortlessly.
Long-Term Storage
Some emails might hold sentimental or legal value and need to be preserved for an extended period. With a roundcube backup all emails, you can securely store your email data for as long as you need, regardless of changes in the email platform.
Key Steps to Backup Roundcube Webmail
1. Choosing the Backup Method
We will explore different approaches for backing up your Roundcube Webmail, including manual methods such as exporting emails to a local file, as well as automated solutions that streamline the backup process.
2. Exporting Emails and Folders
Learn how to export individual emails, specific folders, or your entire mailbox from Roundcube Webmail. We will provide step-by-step instructions to ensure you capture all the necessary data.
3. Using Email Clients and IMAP
Discover how to use email clients like Microsoft Outlook, Mozilla Thunderbird, or Apple Mail to synchronize your Roundcube Webmail and create local backups on your computer.
4. Automated Backup Solutions
Explore third-party applications and plugins designed to simplify the backup process. We will highlight some popular tools that offer scheduled backups, incremental backups, and cloud storage integration.
5. Storing and Managing Backups
Once you have successfully backed up your Roundcube Webmail, we will discuss the best practices for securely storing and organizing your backup files, whether on local storage, external drives, or cloud-based services.
How Can You Backup Roundcube Webmail Data?
We have explained step-by-step instructions for migrating Roundcube to a new server. We have recommended both manual as well as automated solution, with the help of these methods you can easily export Roundcube Webmail data on other platforms. In addition, we tried to resolve the following user requests through this blog:
How to save Roundcube webmail with attachment?
Can I export emails from Roundcube?
How to download Roundcube Webmail?
Best Solutions to Export All Roundcube Emails Data to Different Platforms
In this section we will be going to explain in brief the manual steps to perform the required backup process.
Migrate Roundcube data in individual email (.eml format)
Export Rouncube all data in Mailbox (.mbox format)
Using Software (Recommended)
Method 1: Manual Method for Extracting Individual Emails from Roundcube Webmail
Login and open Roundcube Webmail.
Select the desired single roundcube email and click on the "More" option.
Under More options, select Download (.eml) and save the roundcube email.
Method 2. Export the Complete Roundcube Emails to MBOX Format
Log in to the Roundcube mail, go to the "Export Mail" option in the left column, and view the mailbox folder, such as inbox, shipping, draft, trash, and more.
Select a folder in the top menu, then select the desired Webmail folder, or select all folders. Then choose the action button.
Then, select the download option [.zip format] from the list in the "Select" drop-down menu, which will save your email in Roundcube Webmail in the .mbox file format.
After that, a pop-up window will appear confirming that the mailbox folder has been downloaded. Click the OK button and select a location.
Why to Use an Automated Solution to Backup Roundcube Webmail?
To some extent it is difficult to find the right solution for the Roundcube email migration process. Since a wrong step can lead to data loss, we provide a reliable and error-free solution for exporting emails from Roundcube. The Roundcube Migration Tool is the right solution for securing emails. The software has a free trial version that you can test before you buy. In addition, you can export Roundcube all emails to Office 365, Gmail and other platforms in a few simple steps.
Download the free trial for Windows from below link:


Download the free trial for Mac from below link (Features may vary):


How Do I Export Emails from Roundcube?
Following are the steps to backup / download / migrate Roundcube emails to multiple file formats or email clients and webmail services:
Install and run Roundcube Backup Wizard.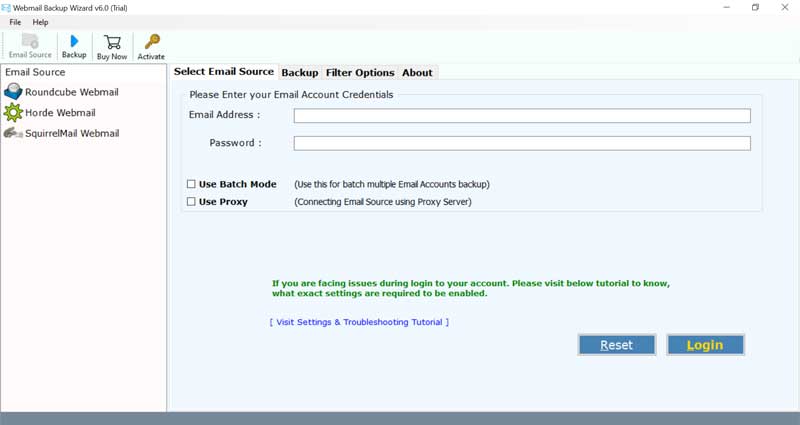 Firstly, from the email source list, choose the Roundcube Webmail / IMAP / Webmail option to perform Roundcube email migration.
Then, enter Roundcube credentials to initiate data backup process. Click on Login button.
The tool will list all folders of your Roundcube webmail from the left side. Now, check the email folders that you want to backup.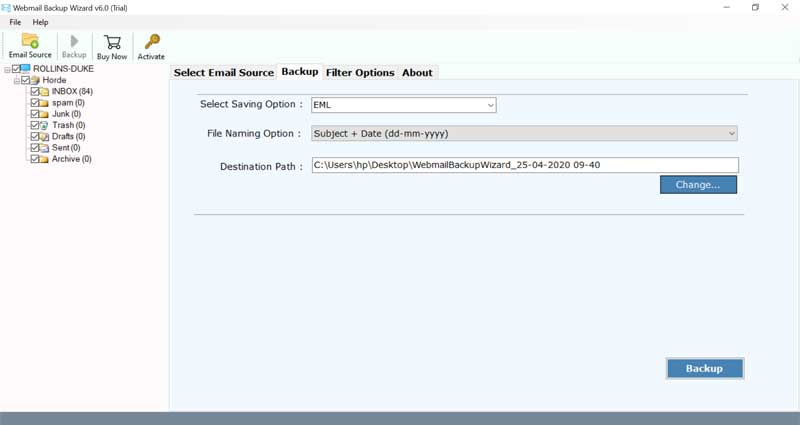 Then, choose the file format to save the emails. Here, we choose the PST format to export emails from Roundcube. Check Use Advance Settings for email filter options.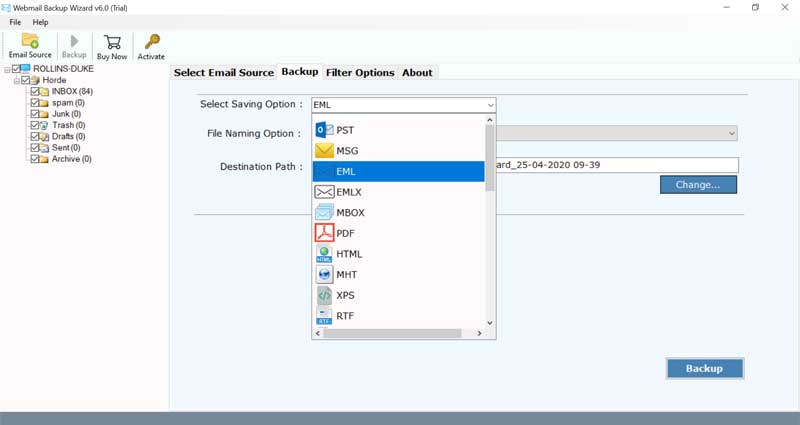 After that, to backup Roundcube database, select the desired location to save your resultant data files.
Then, click on the Backup button to start the process to backup Roundcube Webmail.
After the process gets completed you can check all emails of Roundcube Webmail, you will be notified with a message of completion. In the end, you can check all the converted files at the chosen location.
Learn How to Download Roundcube Emails
Some Benefits of the Roundcube Backup Wizard
Export Roundcube email to outlook
The software is one of the best solutions for exporting Roundcube email to Outlook format.
The ability to convert cPanel Roundcube to the mail client format
Display the "Export Roundcube directly to the mail client" option with the Roundcube Backup Wizard.
Maintain a hierarchy of folders and tags while Roundcube backup all emails
Webmail's Roundcube application preserves the hierarchy of emails and their element or folder structure.
Various naming options for managing email are provided
Roundcube Webmail Converter provides several naming options for specifying the desired name before the individual file conversion process.
Save the converted data to the location requested by the user function
Roundcube backup Converter provides the option to save the converted data to the desired location.
Easy-to-use interface
The user interface of the tool is easy to use and simplifies operation.
Support for all versions of Microsoft Outlook
After exporting roundcube to PST format, the software can easily import PST files in Outlook 2019, 2016, 2013, 2010, 2007, 2003, etc.
Also Read: How to Backup IMAP Email Messages?
Conclusion
Having a reliable backup system for your Roundcube Webmail is crucial to safeguarding your valuable email data. Whether you're a business professional managing critical communications or an individual with sentimental messages, following a proper backup strategy ensures that your emails are protected from loss or unforeseen events. By understanding the importance of email backups and implementing the step-by-step methods outlined in this guide, you can enjoy peace of mind, knowing that your Roundcube Webmail data is secure and easily recoverable when needed. Stay tuned for the following sections, where we will delve into various backup techniques, enabling you to choose the best approach that suits your needs and preferences.
In the above article, we have provided a suitable solution to Roundcube backup all emails in a completely secure way. With a precise solution, you can easily back up all your emails in your roundcube mailbox. In addition, you can save your data to other possibilities in the desired format. The tool also has a DEMO version that can be used to migrate Roundcube to a new server.